We manufacture personalised cushions including photo cushions and other fabric goods in-house at our Wetherby, West Yorkshire facility for our web customers. However, the main part of our business is the manufacture of personalised photo cushions for high street and other online entities to whom we offer our white label dropshipping service.
So, why might a cushion manufacture and dropshipping service be good for you?
Dropshipping is a great way for existing companies and business start-ups to rapidly be able to sell personalised goods like cushions. These could be photo images or illustrations that you have either created yourself or have licensed. You may already be selling these images on other goods so this is an easy way to extend your range and your profits as well.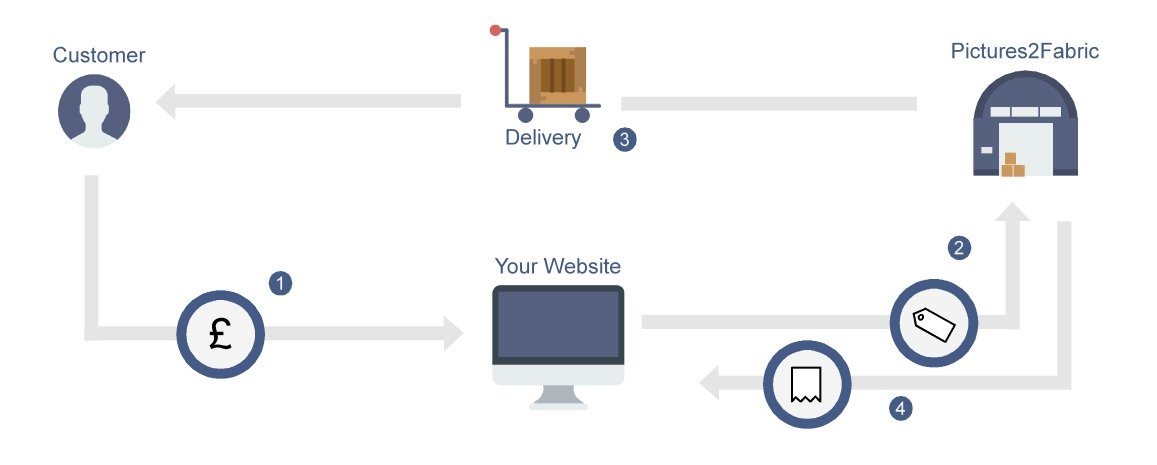 It's only 3 steps to use our cushion dropshipping service, it's that easy!
Step 1: A customer buys one of our products through your website

Step 2: you place an order on our site

Step 3: We send the product directly to the customer
The benefits for an organisation adopting a manufacturing and dropship service are many but chiefly amongst them is the fact that there are no upfront costs. This is because we use a printing process called dye sublimation which allows us to manufacture just one cushion at a time. This allows us to not require a minimum order number enabling you to order only when you have an order yourself to fulfil. This is a stark contrast to the screen printing route who will require a minimum order, leaving you with excess stock you may not have wanted.
This brings us on to another advantage: not having to warehouse stock. It can often be difficult to predict what will and won't sell, especially if you're just starting. Using our cushion manufacture and dropshipping service means that there's no stockholding and no risk either.
Our dropshipping service means that after you've uploaded your order via this site there's nothing more for you to do. We will manufacture your cushion and then send it directly to your customer branded as if it came directly from you complete with your sender's address on it.
In order to trust your business to a supplier in this way, you need to feel comfortable that the dropshipping service does exactly what it says on the tin therefore communication is the key to this. We update you at each milestone of the order journey from receiving to manufacturing and finally shipping. We pride ourselves in the quality, speed and communication that our cushion manufacture and dropship service provides to our customers.
We can provide you with many testimonials from our satisfied customers but the proof of the pudding is in the eating. So why not put us to the test with a free of charge sample by registering for a trade account?
You can use the form below to register or If you would like to talk this through first, feel free to call us on 01937 843480
Trade Account Registration
You can use this form to register for a Trade Account.